The nose threadlift is fast becoming one of the most popular methods for nose augmentation. It promises to give a higher, straighter nose bridge and tip and creates well-defined nose contours. The nose threadlift adds to the aesthetic appearance of the face by creating a more 3D effect. In addition, the nose threadlift is able to lift and reduce the nose tip for a sharper and more slender look. This, cannot be created by nose fillers.
How does it work?
*enlarge to see the cogs on the thread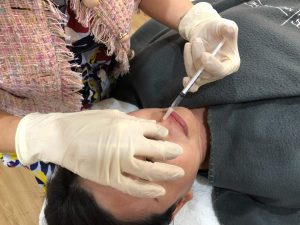 The nose threadlift procedure involves the insertion of PDO (polydioxanone) threads. A very special HIKO nose thread is used for this procedure. HIKO nose threadlift threads are thicker and lined with cogs. This provides better support and structure to the nose once inserted. The result can be seen immediately as the HIKO threads provide scaffolding for support. As the threads dissolve, collagen fibers are laid down in the nose, further prolonging the effects of the nose thread lift.
How long does it last?
The nose threadlift typically lasts 1-2 years. It is semi permanent as it leaves collagen fibers that maintain the nose structure after the threads have dissolved.
How is it performed?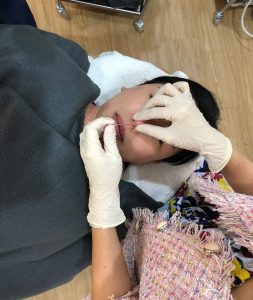 Numbing cream is applied to the skin for 20-30mins. This is followed by small tiny injections of local anesthesia to the nose bridge and tip to make the nose threadlift procedure more comfortable.
An opening is created at the nose tip for the insertion of the nose threadlift threads. This will be the only entry point for both the bridge and tip nose threads. The number of nose threadlift threads required vary from patient to patient and it is usually determined by the doctor after consultation. The entire nose threadlift procedure takes only about 10-15 mins.
Are there any side effects?
Major side effects are uncommon with this procedure. The nose threadlift procedure is safe, minimally invasive with almost zero downtime. Some of the minor side effects include swelling and bruising which will subside in a few days.
Can the nose threadlift procedure be combined with fillers?
Absolutely! Depending on the nose structure, when used synergistically, nose fillers and nose threadlift can further enhance the results to give more lift, height, structure and shape to create the perfect nose.
You might also like